Chapter S
Previous


LVBNR5 Schwarz

Vivere La Vita
Next


Rain of Fire

Icon
Artist
Sta
Genre
Classical Remix

Vocal
N/A
Cover Art
PAPARAYA
Chart Design
No Info
Number
S-2
Difficulty
Max Combo
Length
1:56
Easy
3
337
BPM
225
Hard
7
613
According to the song's title, the character's name in the illustration art is The Rest: Null of Silence.
Difficulty Changelog
Edit
| Version | Easy | Hard |
| --- | --- | --- |
| 4.5 | 3 | 7 |
Note Statistics
Edit
Click notes

330 on Easy (97.92%), 443 on Hard (72.27%)

Hold notes

7 on Easy (2.08%), 6 on Hard (0.98%)

Drag notes

0 on Easy (0.00%), 164 on Hard (26.75%)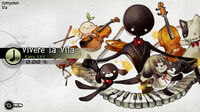 This is a remix of Minute Waltz (Waltz in D flat major Op. 64 No.1) by Chopin.
The title is Italian for "Living The Life".
Contrary to the title card's violent image and bloody motifs, the music isn't violent-sounding at all, making the title card incredibly unfitting.

However, one could argue that it represents the insanity of being a murderer. "Living the Life" of insanity. The music is also rather unsettling in the right context.

This and Revoluxionist are the shortest songs in Chapter S.
This is one of the 26 songs that has made it into another one of Rayark Inc.'s games, Deemo.
This song has a BPM of 225, which being the third fastest song. The others are Morpho and Les Parfums de L'Amour.
Helpful Info
Edit
"
Livin' the life, the life of spread-out notes. Definitely use both hands.
"
 

— Semi-Squishy 3000
"
This has a quick scan line, so be sharp and alert because there are many 6-note-groups.
"
 

— MrGZJcool
"
Like LVBNR5 Schwarz, it's so easy to keep the beat in mind, it's so repetitive, also you can recognize the BPM of the song easily. And I think this song (above A New Home and Loneliness) is too relaxing.
"
 

— XDLOLKAWAII
"
That has to be one of the most unfitting title cards ever! Living the life? That actually looks like murder! Anyways, it's a great song with a great chart, one of the easier ones for the beginning. :D
"
 

— Kht48
"
I guess everyone would be freaked out of the bloody cover art, but it actually is gentle, soothing, and has a fun chart for a level 7. Overall, this song really contrasts its cover art, which explains it winning the Unlikely Twins Award. 'Nuff said about that....
"
 

— CookiesNWaffles
"
Living the Life. The Life of Flowing Click Notes…
"
 

— DSZ9
"
Living the life, killing the people, and eating the bacon.
"
 

— DropletKloud
"
Don't see the cover art and you won't ended here.
"
 

— Everhart
Community content is available under
CC-BY-SA
unless otherwise noted.