Oh! They found the very weird Ume-sensei!
Ume Sama?
Edit
(Hope there aren't any pedophiles here!) I'm 16 years old.
I have two siblings, one sister and brother.
Constantly, I like to annoy my sister. Though, she likes to annoy me as well.
One time, I accidentally killed my two pet fish. I was ten. And by accidentally, I mean my ten year old self was bored. (But why!!!!???)
I usually write stories on a different website, FicitonPress. It's the same username.
Mind screw!
Cytus- Of course!
Deemo- I just play it when I'm bored
Dynamix- My god! Why is this game so hard!
Technika Q- It's all right to me.
Just Dance- Like Deemo, I play it when I'm bored.
Thank you for reading!
Edit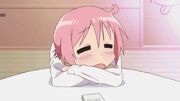 Community content is available under
CC-BY-SA
unless otherwise noted.