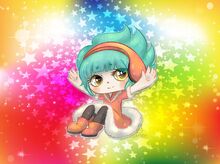 Hi folks! I'm Lory1050 from Italy! ^^
Nice to meet you! As member of Wikia, I'll try to give some contributions in my spare time (of course if I have valid infos to add) ;)
Thanks for visiting my profile page & have a nice day! (=^x^=)
(Special thanks to Theamazingwrabbit for Kurante-chan fanart!)
http://theamazingwrabbit.deviantart.com/
☀http://wrabbit-art.tumblr.com/
Let's end this quickly: I have them all! :3
For practical reasons, it's easier to list the MISSING ones:
What can I say? I actually managed to get them all! I'm still shocked too... ⊙_⊙
Here's the full list of my achieved TP100s on Hard:
HARD TP100s
Chapter I
Chapter II
Chapter III
Chapter IV
Chapter V
Chapter VI
Chapter VII
Chapter VIII
Chapter IX
Chapter X
Chapter 0
Chapter S
Chapter K
Chapter R
Chapter T
Chapter D
Chapter N
Chapter M
Seeing that this stuff is still counting, I reserve the right to separate this chunk from the rest.
No objections allowed.
No, no & no. First Chapter L's insanity, and now this... piece of nonsense ( *`ω´)
Once again, I reserve the full right to separate this frickin' madness from the rest.
No objections allowed.
(NOT) "EASY" Million Master
Apparently YES, but after more than 2 years since release ¯\_(ツ)_/¯
Now you can start laughing... (¬_¬)
even though you probably won't, 'cause I think you know. (ー ー;)
My favorite pages
Edit
Community content is available under
CC-BY-SA
unless otherwise noted.