Chapter 9
Previous


Warlords of Atlantis

To Further Dream
Next


COMA

Icon
Artist
Shinichi Kobayashi
Genre
Progressive Metal

Vocal
N/A
Cover Art
No Info
Chart Design
No Info
Number
9-8
Difficulty
Max Combo
Length
2:28
Easy
4
319
BPM
140
Hard
8
641
Difficulty Change log
Edit
| Version | Easy | Hard |
| --- | --- | --- |
| 5.0 | 4 | 8 |
Note Statistics
Edit
Click notes

251 on Easy (78.68%), 360 on Hard (56.16%)

Hold notes

44 on Easy (13.79%), 32 on Hard (4.99%)

Drag notes

24 on Easy (7.53%), 249 on Hard (38.85%)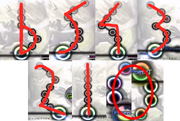 In the middle of the song, drag notes form numbers: 6, 5, 4, 3, 2, 1, and an 8-note group forms the number 0.
Helpful Info
Edit
"
Touches me right to the bottom of my heart. I love dreaming in my sleep. I even see my future in dreams, and they often do happen. Putting all sleep aside, this song has hordes of drag notes at the near end, so don't lose out on them.
"
 

— CookiesNWaffles
"
Shouldn't be too difficult...until you reach the barrage of drag notes at the end. Master this, and L should probably come to be a bit easier for you.
"
 

— WheatyTruffles
"
Truly a beautiful, stunning song. The chorus (of sorts) makes this song a joy to listen to, and the chart is fun and a good warm-up for songs such as Halloween Party and Gatorix. Just be aware of those drag notes. As Cookies, Wheaty, and Pit have all pointed out, those notes are a real hassle after being absorbed in the previous section of the song.
"
 

— Epicman2514
"
In this song about 15 seconds before 25 notes 475-500 combo there are 7 groups of notes, of which 6 are dragging notes that assimilate the numbers:6, 5, 4, 3, 2 and 1. While the fourth group are tag notes and account number: 0. Which leads me to believe that the sequence of these notes are a kind of warning to be carried out the launch of the 25 notes of the combo 475-500.
"
 

— A wikia contributor
"
To nail the line of drags, you must use Three fingers.
"
 

— SuperK2
"
I like the guitar, and not much else.
"
 

— DropletKloud
"
Barrage of notes. Lots of drag notes in the end. The song is awesome...
"
 

— SerialNo30000324
Community content is available under
CC-BY-SA
unless otherwise noted.