Chapter 3
This song has a hidden version. To access it, tapping both of the red "kanji" characters to blue, then start the song normally.
Difficulty Changelog
Edit
Note Statistics
Edit
Click notes

213 on Easy (81.92%), 341 on Hard (75.95%)

Hold notes

40 on Easy (15.38%), 64 on Hard (14.25%)

Drag notes

7 on Easy (2.70%), 44 on Hard (9.80%)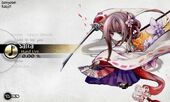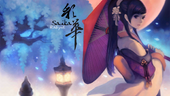 This is the only 1.0 song transferred to Chapter III with the rest of 2.0 songs.
This is the shortest Rabpit song.
"Saika" (彩華) in Japanese means "colorful flowers" or "beautiful flowers". It is also used as a female name, but it's commonly pronounced as Ayaka.
According to Rabpit's YouTube channel, this version is actually an alternated version 2, while the hidden one is version 3. Version 1 was used in another rhythm game, Mozarc.
Along with Sacred, Sanctity, Holy Knight, Colorful Skies and Bloody Purity, this song is from the arcade game Mozarc.
The girl in the cover art appears in The Sacred Story's cover art.
Helpful Info
Edit
"
FGO's QuickRun:

Did this get nerfed! It got faster, so don't worry about another Halcyon nightmare. Really fun, really swift, so go fast or go home.

"
 

— MrGZJcool
"
Quite easy, and it got FATTER! Wait, sorry. FASTER!
"
 

— DropletKloud
"
With the weird off-sync chart now just ancient history, everybody gets a replayable chart that's so well likable!!! And the girl in the cover art is going to be my waifu!
"
 

— Ume Sama
"
Truffly Tips:

This one got a lot more simple and a lot more fun in the 7.0 update, but don't drop your guard because of that. The speed required in this piece may be troublesome for lots of players.
Hold notes are frequently used in combination with click notes here! Get used to these types of patterns here; it'll help you with harder hold-and-click in other songs, that require a lot more dexterity.
There are some really neat click note patterns here, ranging from swift double-single switches to usage in combination with short and sleek drag notes. Just make sure you make the transitions properly.

"
 

— WheatyTruffles