Video
Difficulty Changelog
Note Statistics
Click notes

342 on Easy (93.19%), 380 on Hard (84.07%)

Hold notes

17 on Easy (4.63%), 36 on Hard (7.96%)

Drag notes

8 on Easy (2.18%), 36 on Hard (7.96%)
Trivia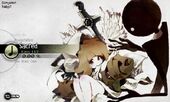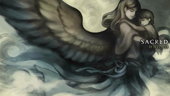 Along with Sanctity, Saika, Holy Knight, Colorful Skies and Bloody Purity, this song appears in the arcade rhythm game, Mozarc.
The statue appears in the The Sacred Story cover art.
This is the only 1.0 song to not have a changed chart in 7.0.
This is the longest song in Chapter 2, beating Hard Landing by 2 seconds and Precipitation by 5 seconds.
The scan line BPM has no relationship to the actual BPM.
Helpful Info
FGO's QuickRun:

This is one sacred chart. *coughs* Anyway, this chart has quite a bit of off-syncs, but don't worry about them. There are double-single notes though, just like Ververg ver.B, so time those right and you got'em. Do study the chart during your free time if you want to get high TP.

MrGZJcool
Sounds Egyptian-like. But still, mysterious feeling to it. Quite a hard level 7 in my opinion, with double overlapping notes and continuous drag notes.

CookiesNWaffles
In my opinion, this song is much harder to play than Sanctity, even though they're both level 7s. This song has a slower scroll speed and overlapping notes (which makes the song seem to have more notes than it actually has).

SerialNo30000324
2nd hardest lv7. I'm stuck on A, and can't get an S...

DropletKloud
I'm not quite sure if the chart is that much off-sync at this point, but hell is this a tricky song to play. The biggest highlights would be the multiple 2-1-2-1-2 patterns that are subject to overlaps. You might want to spot where these patterns are located (e.g. towards the end) before you are caught out the hard way.

Sakusam
Truffly Tips:

As one who's TP 100ed this beastly 7, I highly recommend watching gameplay footage of this one. There are several off-sync and awkward moments here; just going off of instinct will screw you over.
Don't panic. Although these patterns seem daunting, they're just compacted double to single switches. There are times when the patterns go a bit haywire (as mentioned earlier), but for the most part, just keeping going from double to single.
Focus on where your fingers are going for the double rushes. Both sides travel in zig-zag patterns, so make sure your fingers aren't travelling off too far in a certain direction.

WheatyTruffles