Video
Difficulty Changelog
| Version | Easy | Hard |
| --- | --- | --- |
| 3.0 | 4 | 8 |
| 4.5 | 6 | 9 |
Note Statistics
Click notes

151 on Easy (53.35%), 234 on Hard (47.66%)

Hold notes

53 on Easy (18.73%), 80 on Hard (16.29%)

Drag notes

79 on Easy (27.92%), 177 on Hard (36.05%)
Trivia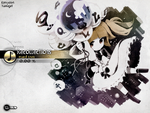 This is one of the 26 songs available in another one of Rayark Inc.'s games, Deemo.
This is one of the 3 songs that use quintuple time signatures (5/8). The others are Fight With Your Devil (5/4) and L7 : Almighty (partially in 5/4).
Helpful Info
"
One reason I hate this song is the s...l...o...w scan line. So get used to the slow BPM too, and you shd be ok with this song...other than the fact that it's a Lv9.
"
 

— MrGZJcool
"
Slow scan line, weird arrangements? No? Then maybe you will have trouble getting high TP. But a fairly nice song, relaxing stuff.
"
 

— CookiesNWaffles
"
Ah....those wonderful childhood memories....this is my favorite song before I played Do Not Wake.
"
 

— Basic1234
"
Slow scan line, relaxing music, and ANNOYINGLY placed notes.
"
 

— SerialNo3000324
"
Slow but romantic. I feel like wine and red lights suddenly...
"
 

— DropletKloud
"
Bad music...bad chart...least favorite song of mine... Well, sorry Yamajet.
"
 

— Dr. Breakfast
"
This is actually a nice song both chart and music-wise. Nice and smooth like melted butter on silk on top of an ice rink. The reasons why people seem to dislike it is because of its rather slow scan line and it's intriguingly peculiar yet confusingly trippy time signature of 5/8. My tip for this song: try to get used to listening to the time signature. ("Animals" by Muse comes to mind.) Once you have that down pat, a high TP should be problem. ;)
"
 

— N1SMO GT-R
Community content is available under
CC-BY-SA
unless otherwise noted.