Video
Difficulty Changelog
| Version | Easy | Hard |
| --- | --- | --- |
| 4.0 | 4 | 9 |
| 4.5 | 6 | 9 |
Note Statistics
Click notes

241 on Easy (96.79%), 533 on Hard (96.04%)

Hold notes

6 on Easy (2.41%), 10 on Hard (1.80%)

Drag notes

2 on Easy (0.80%), 12 on Hard (2.16%)
Trivia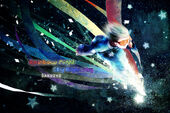 In the BMS version, sakuzyo's alias "efry" was used as the name instead.
An alternate version of RNSH's cover art can be found on SnowEgg's Twitter.
This song had the longest title in the game until it was beaten by L3: Roar, On The Deserted Lands.
The notecount for the hard difficulty is 555, being one of the few songs where its notecount have recurring digits.
The Wikians Say...
The start and end are quite easy, but the middles needs lots of concentration and speed. A look of the chart may also help. I had a fluke a month and a half ago...

CookiesNWaffles
It's pretty hard and definitively not the easiest Lv 9 song.

XDLOLKAWAII
I can't really do much but say that the killer is all about luck and spam...unless anyone has a good way of getting all perfect for that. Other than the killer, its a pretty easy starting, and a big pattern at the end.

MrGZJcool
Rather easy for a level 9 but it isn't all that easy... It's got a bunch of notes in the middle.

SerialNo30000324
Spamspaspamspamspamspamspam Spam in the right way, though.

DropletKloud
This song is...amazing... The chart is so much fun to play... The music is relaxing, too.

Dr. Breakfast
Amazing-in-every-way.

Sweet'N'Sour'Me
For the killer in the middle, spamming can be a way to get through it, but you still have to pay attention to random holds and drags that can appear out of the blue. Once you're done with the killer, don't be overconfident, there's still some 2-1-2-1-2 paths notes left towards the end.

Sakusam