Chapter 8
Difficulty Changelog
Edit
| Version | Easy | Hard |
| --- | --- | --- |
| 4.0 | 4 | 8 |
| 4.5 | 3 | 9 |
Note Statistics
Edit
Click notes

407 on Easy (88.67%), 526 on Hard (56.50%)

Hold notes

41 on Easy (8.93%), 33 on Hard (3.54%)

Drag notes

11 on Easy (2.40%), 372 on Hard (39.96%)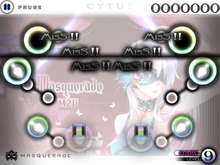 This is M2U's first song in Cytus.
On hard mode, there are groups of notes that form a butterfly.
The version of this art cover can be found in Colaco's album.
Helpful Info
Edit
"
A song all my friends find hard. The melody + beats thing screws me up all the time, and till now I still don't have the MM, because of accused Misses and Bads. One time I only had one Bad and I really accused it a lot. But waltzy, and really nice for dancing. Note how M2U's signature could be the harmonica. Just get the feel for the music. Really feel it and you can manage an A someday. But now I have the MM for it, so never mind. Other word: Coordination.
"
 

— CookiesNWaffles
"
This is a very good song. And also kind of a frustrating song. But work the same way twice, and your score will be nice. [groan]
"
 

— Semi-Squshy 3000
"
This song has many drag notes mixed with normal taps so be careful...
"
 

— SerialNo30000324
"
Good knowledge of drag notes required ahead.
"
 

— DSZ9
"
Coordination. COORDINATION!! XD... This song is very catchy both in its pattern and music. Not to mention the artwork as well... (Armpits XD)
"
 

— Plattie 99
"
This song requires coordination between 2 sides of the screen, and you have to be ready to drag,click,click&drag in every chorus because it's the biggest killer here! My most favorite song in Cytus so far.
"
 

— KuwamotoMisuke
"
TOO. MANY. BUTTERFLY. PATTERN.
"
 

— SuperK2
"
I dont know how lot of people want to make it level 8,It is freakin'hard,harder than entrance...But cool down and play recently you will find a pattern...
"
 

— Mentholzzz
"
For some reason, I find this harder than AXION.
"
 

— DropletKloud
"
Arg...I dun have the coordination for this song.. GDI!
"
 

— Dr. Breakfast
"
The butterfly pattern just keeps letting me have a C. Ew...
"
 

— Stardustsphere2003
Community content is available under
CC-BY-SA
unless otherwise noted.