Chapter 3
Difficulty Changelog
Edit
| Version | Easy | Hard |
| --- | --- | --- |
| 2.0 | 4 | 9 |
| 4.5 | 5 | 7 |
Note Statistics
Edit
Click notes

269 on Easy (77.08%), 369 on Hard (63.07%)

Hold notes

61 on Easy (17.48%), 70 on Hard (11.97%)

Drag notes

19 on Easy (5.44%), 146 on Hard (24.96%)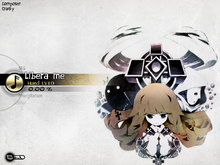 This song's genre is instrumental.
This song was published in 2004 and was remade several times. This song in the game is the recent one.
This is one of the 26 songs that made it into another one of Rayark Inc.'s games, Deemo.
This song was used in the opening of the 1.2.0 and 5.0 trailers.
Libera Me means "Deliver Me." It is a Roman Catholic responsory that is sung in the Office of the Dead and at the absolution of the dead, a service of prayers for the dead said beside the coffin immediately after the Requiem Mass and before burial.
This song is also available in the rhythm games SUPERBEAT XONiC and Rhythmsia.
This song was also added to SOUND VOLTEX IV HEAVENLY HAVEN on March 8th, 2018.
Helpful Info
Edit
"
FGO's QuickRun:

A Level 7 for all. Really, this is pretty much everyone's 7, and also everyone's favorite 7. Solid doubles, holds, and a piano drag at the end, it's got all of it.

"
 

— MrGZJcool
"
Personally an easier level 7 song, but I love this song so much that it is one of my favorite Cytus songs composed by Cranky so far (along with Vanessa). Also the first song on which I MMed and got 99TP at the same time thanks to WCC.
"
 

— CookiesNWaffles
"
New to level 7 Songs? Trying to achieve an upgrade? This song is what you're looking for.
"
 

— DSZ9
"
This seems to be a religious song due to the cover. And this is not really hard until 4.0...
"
 

— Sofia Xerneas-Yveltal
"
In my opinion, this song is quite easy for a level 7. It doesn't have much complex patterns. There is a lot of repeating so it is quite easy to get a good score on it.
"
 

— SerialNo30000324
"
Classical song in Cytus. Stable rhythm and easy chart. Everyone should be able to master this song after a short period of time. Also, cranky is one of my favourite artist, but it seems weird after the tempo change from 3/4 4/4 to only 4/4.
"
 

— LcaIebN
"
Easy lv7. Dat is all.
"
 

— DropletKloud
"
Truffly Tips:

Double notes. Make sure you know where you're supposed to be hitting them. That goes double for the drag notes right after them (heh, see what I did there?).
The double-single switches in this piece aren't too hard to handle, but make sure you're expecting them. The hold notes placed after them should be held down to their ends; always remember that.
The click notes found during the unclear chatter in the piece can only be described as off-sync. These sections aren't long, but I still advise relying heavily on your sight during these parts if you're aiming for a TP run.

"
 

— WheatyTruffles