Video
Notes
This song is entitled "The Chevalier" ("Chevalier" being French for "Knight") on the song selection.
The cover art depicts Iris after her childhood, now having become a knight.
Difficulty Change log
| Version | Easy | Hard |
| --- | --- | --- |
| 6.0 | 2 | 7 |
Note Statistics
Click notes

198 on Easy (81.82%), 403 on Hard (73.81%)

Hold notes

44 on Easy (18.18%), 42 on Hard (7.69%)

Drag notes

0 on Easy (0.00%), 101 on Hard (18.50%)
Lyrics
咲き誇るこの蒼い華 
剣(つるぎ)と盾 奉げる 
何時の日にか 貴女の為 
例えこの身が砕かれようとも

高い木々に囲まれて 
背伸びし 光求め 
あの約束を果たすため 
嘲笑われても昇ってゆく

崩れた王城(しろ)には 
もう貴女が居なくて 
もう願いも 祈りも 
要らなくて
その瞳(め)が赤く染められた 
と云うのなら 
この剣(つるぎ)で全て 
正してみせるまでだ
[2x]

いつでも 潔(しろ)い侭で
貴女を待っている 
昔の姿で 
また会えるその日まで

sakihokoru kono aoi hana
tsurugi to tate sasageru
itsuno hinika anata no tame
tatoe konomiga kudakare youtomo

takai kigi ni kakomarete
senobishi hikarimotome
ano yakusoku wo hatasu tame
azawaraware temo modotteyuku

kuzureta shiro ni wa
mou anata ga inakute
mou negai mo inorimo
iranakute 

sono mega akaku somerareta
to iu no nara
kono tsurugi de subete
tadashiide miseru madeda
[2x]

Itsu demo shiroi mamade
anatawo matte iru
mukashi no sugata de
mata aeru miseru himade.

The blue flower that blossomed
By dedicating this sword and shield 
For you, sometime,
Even if my body scatters

Surrounded by tall trees 
I must obtain the light from it
To keep the promise we had
I must return even if I get scoffed at

In the broken castle, 
there is no more of you
Now neither the prayer nor the hope matters
If your eyes had turned red
With this sword I will change everything back to how it was
[2x]

I am always waiting for real you
Until the day we meet again like how we used to be.


(Translated by lYongl)

Trivia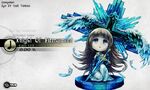 This is a remix of Holy Knight.
The term "Firmament" relates to the Sky, or Heavens. Thus the title can be read in one way as "Knight of the Heavens" depending on your interpretation of Firmament.
This song can also appears in Deemo.
XY stands for Xiao Yian, a Taiwanese voice actor, singer and composer. He composed Violet by himself in Eyemedia's name.
The song was used in Chapter K's trailer.
The statue above Iris appears to be of Rosabel.
Helpful Info
Although I prefer the original song, this song is quite a good remix with nice vocals! There are over 5 ranges of tempo for this song, so you may have to be careful of that, as well as the piano.

CookiesNWaffles
I mastered this in 6.0 and I forgot the charts after updating and remastering again. At first I don't want to because of the slide zzzzzz but the rest was fine. Would kill my touchscreen.

Sofia Xerneas-Yveltal
Just love the song although I don't know the lyrics :P

Everhart
Great song, I like this vocal and the lyrics are good.

Mentholzzz