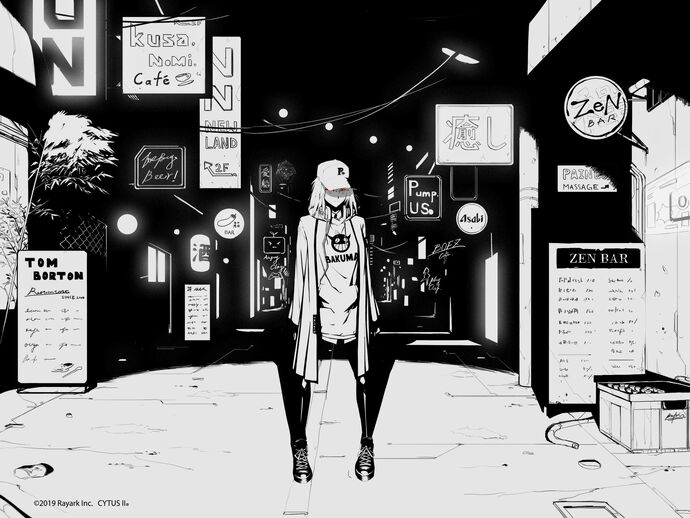 Ivy
Real name
OPCI_2501_IV
Birthdate
January 18, 102 NA
Age
600
Gender
Female
Color

Bright Red

Music style
Artcore, DnB, Hardstyle
Logo
Ivy is a main character in Cytus II, and is one of the 13 playable characters in the game. She debuted with the 2.0 update.
Description
Edit
After bonding with another robot, "Vanessa", Ivy gains a new sense of purpose and identity. Originally created for the purpose of restoring civilization for the return of humans, she soon developed a sense of freedom for her own kind. After years of inactivity and separation from the world she wakes up in an unfamiliar place. Ivy starts to seek out how humans have been reforming the world during the absence of the architects. How far is she willing to go in search for the truth?
Personality
Edit
Originally with no identity, OPCI_2501_IV had her emotions and freedom of will emerged from nothing.
After becoming conscious, she had a caring character as seen to the animals.
Ivy has also been urging to find out the truth behind the seemingly impossible current human technological advancements. She has developed the identity of Æsir to figure out what humans are hiding behind the core of Cytus.
Main Songs
Edit
Black Market - Song Packs
Edit
Emotion Samples 01
Edit
Emotion Samples 02
Edit
1. Songs in bold are hidden.
2. †The song has a tempo variation.
Ivy is the only free character that does not use the iM System to support her story progression, and is also the first free character released after the original three.
Ivy has the most songs taken from the original Cytus game: D R G , Biotonic, Area184 and Halloween Party.

However, out of all of the returning songs, Halloween Party was the only one unlocked without a code (instead unlocked by default) and released via update (2.7)

Ivy debuts the Click Drag Note, a new type of note where the player taps first and then drags.
Ivy is the only free character not to have songs featured in the "Marvelous Mix" song packs.
Community content is available under
CC-BY-SA
unless otherwise noted.