Chapter 4
Difficulty Changelog
Edit
| Version | Easy | Hard |
| --- | --- | --- |
| 3.0 | 3 | 7 |
| 4.5 | 4 | 7 |
Note Statistics
Edit
Click notes

269 on Easy (77.97%), 449 on Hard (67.41%)

Hold notes

5 on Easy (1.45%), 18 on Hard (2.70%)

Drag notes

71 on Easy (20.58%), 199 on Hard (29.89%)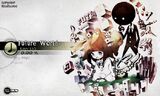 This is one of the 26 songs available in another one of Rayark Inc.'s games, Deemo.
The notecount for the hard difficulty is 666, which is a reference to the Number of the Beast, referencing the character's beastly appearance.
Various versions of this song, including remixes, are available on SoundCloud
The boy in the cover art, along with the girl from Just A Trip's, have reappeared in Afterglow's cover art.
Helpful Info
Edit
"
So the part that screws me over every time is the end, where there are all these long slides...cause I never slide them all the way. So...slide them all the way. And you will be fine.
"
 

— MrGZJcool
"
This song is definitely upright cheerful and happy. Be warned of long drags, alternated timing (to click notes), slow rush notes and the TP. RNSH didn't even have as many notes as this one... Beast level 7.
"
 

— CookiesNWaffles
"
That ref. though. As the Wikians above said, you need to make sure that all those slides have been secured. Timing shifts too in here.
"
 

— DSZ9
"
*draaaag* *misses the last one* AAARRRGGGHHH!!!
"
 

— SerialNo30000324
"
The devil wants to take away your MM in this song with those alternating notes....
"
 

— DropletKloud
"
This is conspiracy...... This devil gesture and the devil max combo...
"
 

— LCaIebN