Previous


The Red Coronation

Forbidden Codex
Next


Knight of Firmament

Icon
Artist
Hoskey
Genre
No Info

Vocal
No Info
Cover Art
No Info
Chart Design
No info
Chapter
K
Difficulty
Max Combo
Length
2:22
Easy
2
301
BPM
176 (main)
Hard
7
544
Video
Notes
This song is entitled "Bewitched" on the song selection.
The cover art depicts Rosabel interacting with the titular "Forbidden Codex", exposing her to its powers.
Difficulty Change log
| Version | Easy | Hard |
| --- | --- | --- |
| 6.0 | 2 | 7 |
Note Statistics
Click notes

281 on Easy (93.36%), 529 on Hard (97.24%)

Hold notes

20 on Easy (6.64%), 9 on Hard (1.65%)

Drag notes

0 on Easy (0.00%), 6 on Hard (1.11%)
Lyrics
Waversorul in pletuo sanshues nada rayi masa redo moti tami tueto 
Nimesorul in pletuo sanshues nada rayi masa redo mueli tueto kuose
Waversori to kuepetto Nye matudoru masan kwa mremesi 
Nimesori to kuemoi moduso aku mau berichi madusorukko...!

Trivia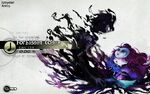 This song is sung in a fictional language, just like Ververg and its hidden version, Ververg ver.B. The lyrics are implied to be the spells in the codex being sung.
This is one of the three songs that has over 5 ranges of BPM, the others are Morpho and Knight of Firmament. It changes from 87.5 to 175 - 176 - 168 - 166 - 140 - 87.5 - 176.
This song can also appears in Deemo.

In the Deemo version of this song, Ice edited the track and added piano effects, and this made the difficulty of the chart increase.

The Cycon for this song contains Hebrew letters. They are, starting from the top left and going counterclockwise, נ (nun), ר (rēsh), ע (ʿayin), כ (kaph), and ז (ʿzayin). While no phrase is produced going either in that direction or the opposite, Google Translate produces "Same reference" with the anagram כנ עזר, possibly referring to the codex itself.
Helpful Info
"
The 8-note group was crazy for a level 7. It got me off guard when I played it for the first time. It does sound a bit haunting too. And like in Deemo, you'll see all the compact yellow notes clumped together... Thats what you'll get for such a fast-paced song.
"
 

— CookiesNWaffles
"
Very nice song. Sensational. Dramatic. Majestic. Domestic. Best Vocaloid. haha, the 8 grouped notes start after combo 359. If your device is laggy and won't respond the first tap, tap your screen first before or while waiting for the notes to come. This also happens to mine and when I borrow a friend's phone.
"
 

— Sofia Xerneas-Yveltal
"
Be careful for 4 sudden 8-grouped notes. But this song has a fast scan line,so it's no big problem trying to MM this song.
"
 

— DropletKloud
"
An easy lv.7 song. But in Deemo, what is that!!! Don't forget the 8-note groups.
"
 

— Mentholzzz
Community content is available under
CC-BY-SA
unless otherwise noted.