Video
Notes
This song is entitled "4:TR33" on the song selection.
Difficulty Change log
| Version | Easy | Hard |
| --- | --- | --- |
| 7.0 | 3 | 7 |
Note Statistics
Click notes

259 on Easy (84.92%), 283 on Hard (71.28%)

Hold notes

46 on Easy (15.08%), 45 on Hard (11.34%)

Drag notes

0 on Easy (0.00%), 69 on Hard (17.38%)
Trivia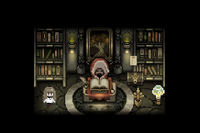 The cover is the central room of Deemo. The girl on the left is Alice, the heroine in Deemo, while the black figure on the right is Deemo, a pianist and the hero as well as the players themselves.

After a while, Alice will go into the library, walk around, and then the screen fades to black and the title shows up again.
The library is used as the icon of Chapter R

In the trailer version, Rabpit was misspelled as "Rabilt".
The noise from 0:38 to 1:13 is actually in Morse code. Decoding that reveals "Cytus the best music game ever, thank you all. Stay tuned for Deemo two point zero". This was, of course, a hint to Deemo 2.0, which was released on 27 May 2015.
By hitting start at a very specific time, it is possible to play this song with the screen completely black.
The background for this song is actually larger than the other songs in the game, because when the song is first swiped to, the viewpoint pans down from the top of the picture.
This is the only song transfer to not appear in Chapter D.
Helpful Info
I love this chiptune piece as much as its original. The chart can be a bit too easy though.

CookiesNWaffles
This song somehow brings back my childhood memories. The peaceful melodies... Ooohhh... Rabpit is my favorite composer ♥

KhangND
This song is peaceful, a first for a chiptune song.

DropletKloud
Good piano song by Rabpit. Great remix into chiptune by ICE.

Mentholzzz