Previous


Set Free

Do Not Wake
Next


Gatorix

Icon
Artist
Vospi
Genre
Drum n' Bass

Vocal
N/A
Cover Art
No Info
Chart Design
No info
Chapter
10
Difficulty
Max Combo
Length
2:20
Easy
4
385
BPM
175
Hard
9
798
Video
Difficulty Change log
| Version | Easy | Hard |
| --- | --- | --- |
| 5.0 | 4 | 9 |
Note Statistics
Click notes

290 on Easy (75.32%), 451 on Hard (56.52%)

Hold notes

9 on Easy (2.34%), 2 on Hard (0.25%)

Drag notes

86 on Easy (22.34%), 345 on Hard (43.23%)
Trivia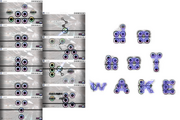 This song's sub genre is also Electronic.
In Hard mode, near the end of the song, nine note groups forms the words 'DO NOT WAKE' in the letter sequence D-O-N-O-T-W-A-K-E. Hence, the title of this song.
The font in the artwork is called "Green Energy."
Helpful Info
"
Even though it's one of the easiest lv9 songs, it has a surprisingly charming melody, and that makes this song much much better than Reverence. A big applause for VOSPI.
"
 

— Basic1234
"
Short slides. That's why a one hand play is so tough. Anyways, easiest Lv9 by far, and all you need is patience.
"
 

— MrGZJcool
"
Simple level 9 when you play it with two hands, but not to mention short slides. However, the most soothing song in Cytus in my opinion, and also the charming melody... Ah, do not wake, and thee shall close my eyes...

Note: Playing this with 1 hand tends to prove otherwise. It's really hard for a OH.

"
 

— CookiewNWaffles
"
An easy lv9 they said... WELL ,THEY SAID LIES
"
 

— DropletKloud
"
An easy and simple lv9.
"
 

— Kittenu
"
As I've said, it's a very easy Level 9, easy to the point that I Mastered it on my first try. However, if you're not me, the short drags in Otome and Laplace should be pretty good practice.
"
 

— WheatyTruffles
"
В перетаскивать заметки иногда убить моего сенсорного экрана
"
 

— Sofia Xerneas-Yveltal
"
Just like our buddy Reverence: great music, great chart, great song.
"
 

— Dr. Breakfast
"
My favorite song from the game here. If you're new to the chart, you might want to treat consecutives short drags as one longer drag. Otherwise, patience is the key, and a fairly quick MM is not impossible.
"
 

— Sakusam
Community content is available under
CC-BY-SA
unless otherwise noted.