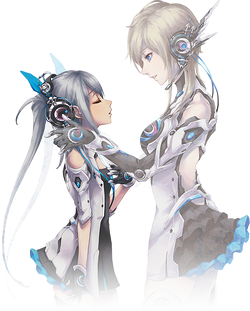 Cytus Omega was a concept arcade game based off from Cytus.
It is supposed to be a collaboration between Rayark and Capcom, and should feature existing and new songs in the game.
As of 30th March 2018, Rayark announced this project is terminated.
"A world that has revived after a disaster-
The human race, which was thought to have gone extinct after an unprecedented catastrophe, has been resuscitated by the Operators and the memories stored in the Cytus.
Relying on memories stored in the Operators, humans started rebuilding their world - a world where humans and androids live together.
The Cytus, where the memories are stored, is an extremely secret compartment that only certain individuals can access.
One day, the main character wakes in a pod. Looking around, she sees that she is in a laboratory. However, she doesn't remember a thing about her identity, and doesn't know her own motives. In her clouded consciousness, a shadow moves across her vision. Chasing after the shadow, she sees a terminal with "Cytus" written on it.
The main character accesses the Cytus, and starts to recover her memories through music."
Characters
Edit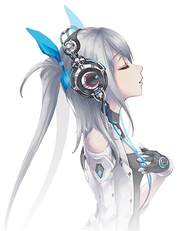 MIU
CV:Ai Kakuma
A person that was frozen right before the catastrophe. She looks young, but as the one managing the memory data of Cytus, she has maintained her talent despite being mentally old. She shows a cooperative attitude to the memory-less protagonist.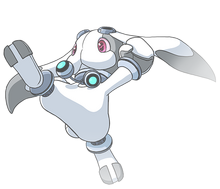 Omochi
CV:???
A rabbit-like robot that claims to be MIU's caretaker.
He is able to speak and understand human words, however he is a little childish.
He loves the name Omochi, which was given to him by MIU.
Gameplay
Edit
Types of Notes Edit
Click Notes

These are notes tapped when the scan line is over it.

Hold Notes

These are notes held until the meter is filled.

Drag Notes

These are notes dragged following its track.

Flick Notes

These are the notes flicked in the direction of the arrow.
Area Point
Edit
In Cytus Omega, a map system was added. The players must complete each song to gain Area Points (AP). AP is used to unlock new songs/titles/icons. The table of AP judgement for one song is below.
| Achievement | Area Points (AP) |
| --- | --- |
| Play Music | 30 AP |
| Clear | 10 AP |
| MM Rank | 40 AP |
| Full Combo | 20 AP |
| Total | 100 AP |
Available Songs
Edit
Existing Songs
Edit
New Additions!
Edit
Tap Sound

There will be a selection of different tap sounds. (No Sound, A, B, C)

Note Size

Ranges from Small, Medium and Large.

Pop-up Mode

Ranges from Default, Rapid and Grouped.

Background

There will be a setting to change animations of the background.
AP Achievement (The 3rd LocaTest)
Edit
40 AP: Team LocaTest (Title)
120 AP: AREA - 02 unlocked
300 AP: LocaTester Level 10 (Title)
600 AP: Astraios unlocked (Astraios is in AREA - 02)
900 AP: LocaTester Level 9 (Title)
1200 AP: Zauberkugel unlocked (in AREA - 02)
1400 AP: MIU Avatar unlocked
1500 AP: AREA - 03 unlocked
1800 AP: LocaTester Level 8 (Title)
2100 AP: AXION unlocked
2400 AP: LocaTest Level 7 (Title)
2700 AP: Devillic Sphere unlocked
3000 AP: LocaTester Level 6 (Title)
3300 AP: LocaTester (Avatar?)
4400 AP: LocaTester Level 5 (Title)
5000 AP: Freedom Dive unlocked
5500 AP: LocaTester Level 4 (Title)
6600 AP: LocaTester Level 3 (Title)
7700 AP: LocaTester Level 2 (Title)
8800 AP: LocaTester Level 1 (Title)
10000 AP: Fully Completed
External links
Edit
Community content is available under
CC-BY-SA
unless otherwise noted.