Trivia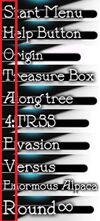 The topic of this chapter is Retro, or returning to a recent past styles. Most covers used in this chapter are illustrated in the style of classic console video games and most songs are remixed in chiptune.
This chapter introduces Verdammt and siromaru.

Verdammt technically debuted as part of Team Grimoire.

This is the only chapter (aside from Chapter D) that has a Deemo song that wasn't previously a Cytus song, which is Dream, but remixed to chiptune by ICE for this chapter.

This is also the first chapter that has a Tone Sphere song, which is Conflict. However, this song is not under the Groundbreaking Edit, the version that Tone Sphere used.

Like Chapter K, Chapter T, Chapter M & Chapter L, the songs have different names in the song selection menu.
Starting from Theme of Kingdom No.8 all the way to Conflict, the selection title's first letters spell out: SHOTA4EVER.

This is a reference to ICE, who is a shotacon, and the creator of this chapter.

From left to right, GuluJam, 6tan, Deemo and Alice, Mandora, and ICE's iconic character (Len Kagamine with a canine hoodie) appear in the cover artwork.