Previous
Keep it up
CODE NAME : GAMMA


NeLiME

Next
Blow my mind

Character
NEKO#ΦωΦ
BPM
210
Length
1:48
Cover Art
N/A
Version
1.0
Difficulty
Max Combo

Easy

5
274

Hard

9
468

Chaos

15
920

Glitch

Not available
Not available
Unlock Requirement
Edit
This is one of the 12 songs to have a Chaos difficulty of 15, along with Chrome VOX, REmorse, Blow My Mind (tpz Overheat Remix), Capybara Kids' Paradise, FUJIN Rumble, V., iL, CODE NAME : SIGMA, Floor of Lava, Fur War, Pur War and Re:incRnaTiØN ~夕焼ケ世界ノ決別ヲ~.
This is the second shortest song in the game, beaten by 100sec Cat Dreams by 8 seconds.
This song is a sequel to Codename : Zero, a song from the original Cytus.
In the middle of the Chaos chart, drag notes form the gamma symbol (γ), referencing the song's name.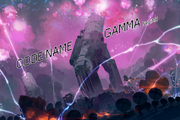 Community content is available under
CC-BY-SA
unless otherwise noted.